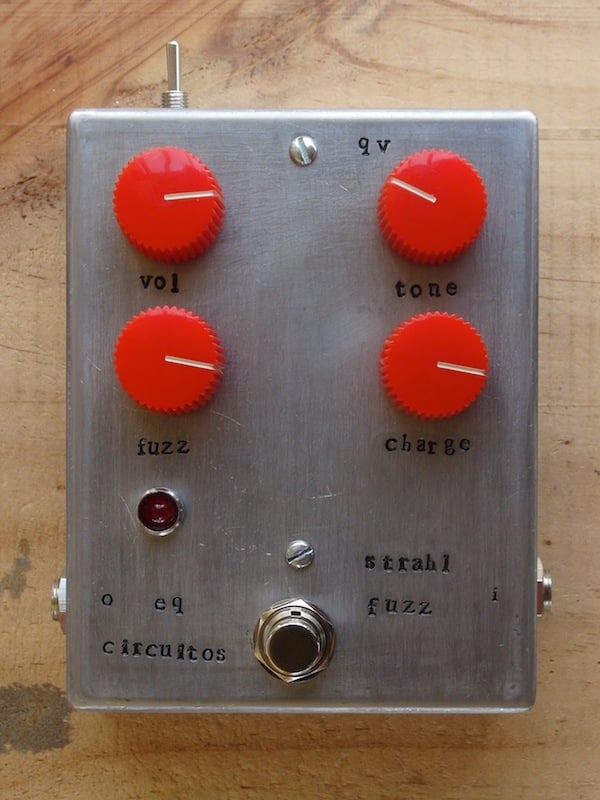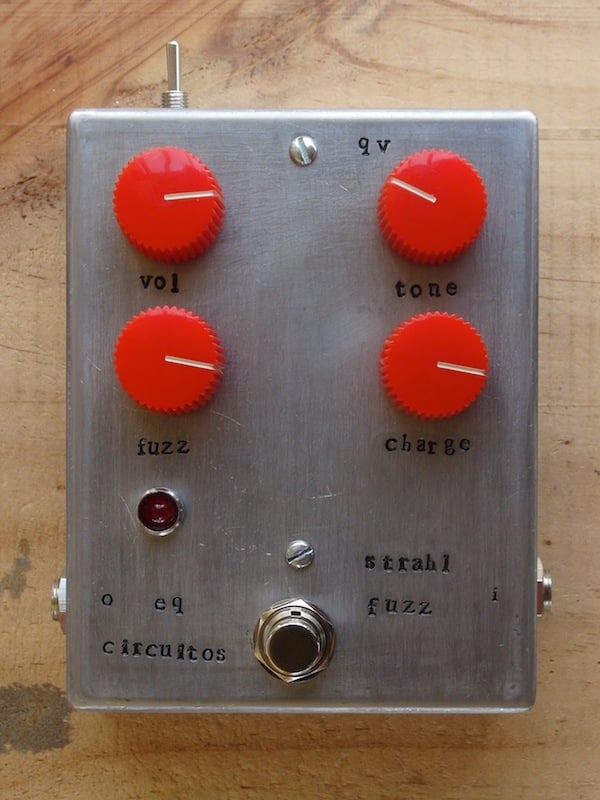 Strahl Fuzz
$190.00
The Strahl Fuzz is like krautrock lightning mixed with some dark energies from the lands of doom. This 4 gain stage pie is modified and balanced so that you can get lost of different sounds out of it. You have control over output volume, fuzz amount, strahl (mid frequencies contents), tone (bass to treble). With these controls you can a great variety of sounds:
-light fuzz
-mid fuzz
-full on fuzz
-mid scoop
-full mids
-thin
-full and dark
-and everything in between (controls are highly interactive)
The Strahl fuzz is heavy...lots of output volume (enough to overdrive your amp at the same time your getting fuzzed)...it has the potentential to get you into riff time until a Strahl ligths your consiousness and you realize why you are here: to shred!
New Upgraded version with a 3 position switch that lets you dial in the density of the incoming signal, resulting in 3 different fuzz styles:
-FAT SATURATED FUZZ / CLASSI (same density as the previous versions)
-THIN / TREBLE BOOSTER (very thin, less saturated almost Overdrive like)
-MEDIUM (lots of meat but with a more focused tone than the classic)
This pedal has enough low end to handle guitar and bass just as well!
Typical enclosure size:
4.7" x 3.7" x 1.4"
All pedals come with hand stamped labels and bare metal enclosures.
or
Custom Colors option: no graphics/no stamps, just a solid color enclosure. You choose the color from the enclosure and the knobs. Colors to choose (depends on availability):
For the enclosure: Blue, Cream, Light Blue, Dark Blue, Light Green, Dark Green, Red, Violet, Orange, Yellow.
For the knobs: Black, Brown, Blue, Cream, Gray, Green, Orange, Red, Violet, White, Yellow.
Write a note at the checkout or via the contact link with the colors you want for each especific knob and for the enclosure.
Truebypass.
9V center negative standard 2.1mm Boss Style dc jack (adaptor not included).
Please allow 4 to 6 weeks for building and 1 to 2 weeks for shipping.
All sales are final.
No refunds.
If the pedal shows some failure when arriving, it can be repaired or replaced at no cost (only the shipping has to be paid for).
for more demos, questions, custom orders, other devices, and more:
eQ.circuitos facebook page
and
eQ.circuitos web page